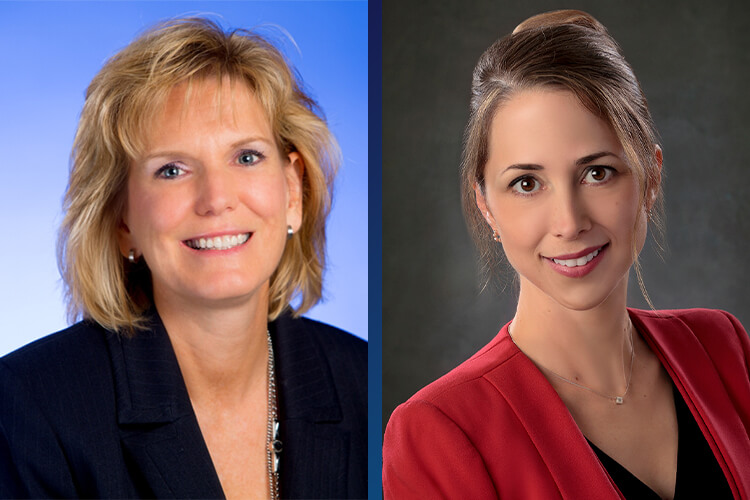 IQVIA's 2021 HBA award recipients IQVIANs recognized as 2021 Luminary and Rising Star by the Healthcare Businesswomen's Association.
The Healthcare Businesswomen's Association (HBA) is a global nonprofit organization that recognizes individuals and companies who impact and influence women in healthcare. In partnership with our Women Inspired Network, IQVIA has been a long-time sponsor of the HBA and their annual award program.
We are thrilled to announce Annette Williams, vice president and global head, Lifecycle Safety as IQVIA's 2021 HBA Luminary, and Sarah Lyons, general manager, Privacy Analytics as IQVIA's 2021 HBA Rising Star.
HBA Luminaries have more than 20 years of professional experience, serve as a role model in their company, actively mentor and are a shining example of leadership.
Annette Williams, R.Ph., is responsible for leading IQVIA's Lifecycle Safety organization and managing all aspects of clinical and post-marketing pharmacovigilance, medical information, signal detection, QPPV, safety reporting and clinical event validation and adjudication.
Annette has a passion for developing colleagues, in and outside of IQVIA, and helps advance women through IQVIA's Women Inspired Network Mentorship Program.
"It has been an incredible honor to be recognized as a Luminary by the HBA and IQVIA, in company with such esteemed colleagues," said Williams. "It is a deep privilege to lead IQVIA's Lifecycle Safety organization, where we collaborate and innovate with our clients and other stakeholders in an effort drive patient safety forward."
HBA Rising Stars are professionals in the early to middle stage of their careers, recognizing outstanding performance, commitment to excellence and valuable contributions to their companies' success.
Sarah Lyons leads IQVIA's Privacy Analytics business. She and her team are continuously recognized for business growth and high customer satisfaction scores. Sarah's knowledge and insights have made her a valued industry leader, who is often spotlighted at industry conferences and customer engagements and in publications.
Sarah's leadership is an inspiration to managers, employees and customers. Her business and industry acumen coupled with her focus on employee engagement, equal opportunity and professional development leaves a lasting impression on the people.
"It was an honor to be recognized by the HBA alongside truly inspirational leaders," said Lyons. "I have the privilege of working with talented and collaborative professionals and I am thrilled to see our teamwork and passion recognized."
Both Annette and Sarah, along with 155 honorees who represent companies across the life sciences industry, were recognized at the HBA's annual Women of the Year event.
Learn more about what's going on at IQVIA.
Join our Global Talent Network
Let's stay connected.