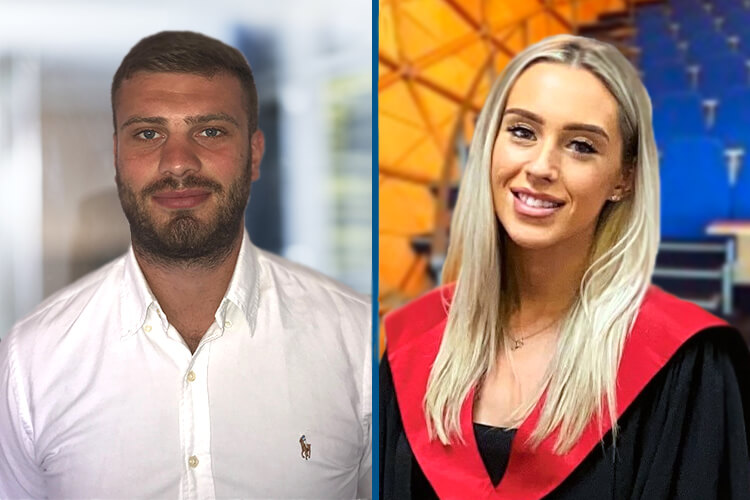 Inaugural Project Leadership internship program
Inaugural Project Leadership internship program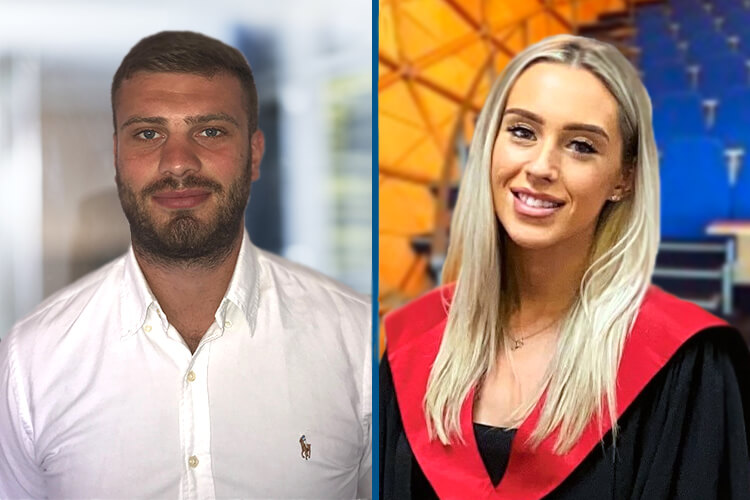 Project Management Assistants share personal insights about the value of their IQVIA internships.
IQVIA's Project Leadership team recently piloted an internship program, with 11 interns completing the 12-week initiative and more than 80 percent of the cohort earning their Association for Project Management (APM) Project Fundamentals Qualification.
Megan and Alex were among the inaugural class joining Project Leadership teams dedicated to Cardiovascular, Renal and Metabolic, and Early Clinical Development, respectively. Read on to hear about their experience.


Getting started
We began our Project Leadership internships in June 2021 along with nine other participants. On the first day, we felt excited, but a bit nervous and out of our depth given we had studied business management and sports coaching. We had a lot to learn about clinical research, but were eager to apply our university experiences to our new roles at IQVIA.
During the first two weeks, we completed several IQVIA trainings spanning everything from standard operating procedures and guidelines to therapeutic areas and the governing bodies that set clinical trial rules and regulations.
We also attended presentations from senior leaders across different IQVIA functions who spoke about their career paths and the roles they play within clinical development. One speaker who really inspired us was an HR colleague who shared three great sessions on emotional intelligence, resilience and performance, image and exposure (PIE). Her trainings helped us become more aware of how our emotions and image play a big role in our professional success.
In addition to the various training opportunities, the Project Leadership team helped us build out our professional networks too. We had "buddies" who helped us navigate daily tasks and mentors to gain perspective on our career goals and aspirations.


Gaining hands-on experience
As the program progressed, we earned more responsibility and autonomy. We were responsible for taking and distributing meeting minutes, filing documentation and tracking project metrics. We listened in on a range of meetings, from finance to vendor management, allowing us to understand the amount of communication and teamwork needed to ensure a smooth and successful project. This increased scope gave us a taste of what working as a Project Management Analyst at IQVIA would involve.
In the last weeks of our internships, we successfully completed the APM Project Management Fundamentals Qualification exam, which not only gave us an accreditation to add to our resumes but was something we were both really proud of.
On the last day, we gave our final presentations to our fellow interns, cohort mentors, steering committee and members of the senior leadership team. Though it was challenging to present to a large group of executives, it prepared us for future project management roles.


Going deeper
Because both of us had already completed our university studies, we were given the opportunity to stay on with IQVIA through the end of the year, with increased responsibility on our projects.
The extension gave us even more confidence and allowed us to be forward-thinking.
Our time with IQVIA gave us an invaluable way to learn how a successful project is conducted and how functions work together to create a strong team. Working for a global organization gave us the opportunity to work and communicate with team members in different time zones, cultures and use different technologies, like video conferencing.
The structure gave us everything we needed to get the most out of the experience. We were lucky to have such great support from the steering committee, our buddies and mentors. It was an amazing opportunity which we would both recommend other students consider.

Interested in applying for an internship with IQVIA? Search opportunities near you.
Join our Global Talent Network
Let's stay connected.