Careers in Contract Sales and Medical Solutions
Imagine a role that helps customers provide life-changing care to patients around the world. This opportunity exists – and it's right here with our Contract Sales and Medical Solutions (CSMS) team.
We're looking for forward-thinking individuals with excellent interpersonal skills to join our diverse team and help our customers drive healthcare forward. With global opportunities, innovative tools and outstanding leadership, you'll have the support you need to make a positive difference in patient health.
Apply Now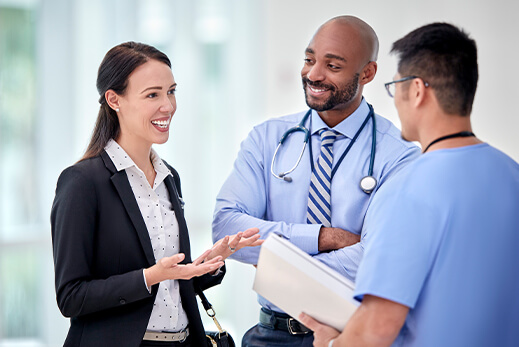 About us
The CSMS team at IQVIA is a leading service provider of patient-engagement solutions and a full-service partner from analytics through to commercialization. We provide outsourcing capabilities to help our customers better execute across technology, analytics and field-force operations.
Our specialist teams help our customers ensure the right products are available to the right patients while providing outstanding patient services that empower healthy outcomes. We drive results by deploying the right mix of Medical Sales Representatives, Nurse Advisors, Medical Science Liaisons and remote personnel, as needed.
What we do
CSMS helps customers optimize the commercial value of their product with all stakeholders across the entire brand lifecycle. From identifying the appropriate pricing and value proposition, to launching and promoting treatments or devices, our patient-centric solutions enhance outcomes by engaging with patients and driving adherence.
Since joining IQVIA I have had unrivaled support and development from my manager to enable me to aspire to move into secondary care. I feel like my career is strongly supported by my manager in order to maximise my potential.

Brendan Maccaollite, Pharmaceutical Sales Representative, Surrey/Sussex
IQVIA has been behind my development to become a MSL. The contracts that I have worked on have allowed me to push clinical projects with a recent opportunity to manage a pilot scheme integrating e-detailing into an established field based team. The result was an increase in sales.

Jodie Edwards, Clinical Sales Specialist –
E-detailing, London